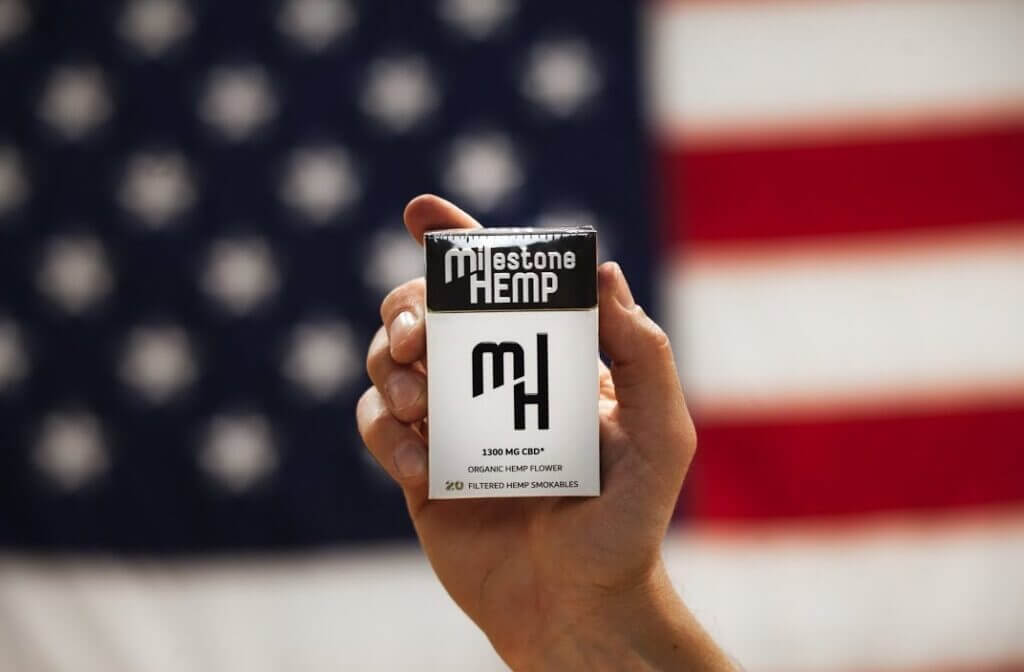 In the increasingly growing market of CBD products, it can be hard to find brands that utilize quality ingredients, are environmentally friendly, and have great values.
That's where Milestone Hemp comes in. With premium and eco-friendly ingredients, a multitude of benefits, and an admirable culture, Milestone Hemp seems to have it all.
Milestone Hemp is a Southern California company that offers premium filtered hemp smokables.
Their smokeables are rolled with 100% USDA-certified organic hemp flower, which has been tested by an independent ISO-accredited lab.
The filters in all of their products are made from natural, food-grade fibers, including flax, cotton, and manila hemp, with no artificial compounds or chemical residues. Their filters are unique in that they biodegrade in less than 7 days – compared to over 10 years for traditional tobacco cigarette filters!
Milestone products utilize full-spectrum hemp, containing not just a single cannabinoid but many cannabinoids plus terpenes. This means you get to experience the benefits of the entire hemp plant, often referred to by scientists as the "entourage effect".
Though more case studies are still needed, the "entourage effect" is the suggested positive contribution derived from the addition of terpenes to the effect of several cannabinoids when taken together.
To quote Aristotle: "The whole is greater than the sum of its parts." While there is some debate on the overall benefit of the entourage effect, it still stands to reason that full-spectrum products are a greater value to the customer than those products which offer only a single cannabinoid, such as CBD.
In addition to offering a high-quality, eco-friendly product, Milestone Hemp also prides itself on promoting a great work culture.
The Milestone team is a fun, down-to-earth group that is always on the side of its customers. As hard as they work to produce their products, they work equally as hard to lead by example and live life to the fullest.
Their entire team at every rank stands by Milestone's values to be brave, humble, reliable, consistent, and, most importantly, to have fun while ultimately living their dreams.
Background
Milestone Hemp founder Justin Fiore is a true embodiment of his company's values.
As Justin shared with us, Milestone Hemp is his own personal dream that he worked hard to make a reality. Justin was working as a Partner within a global accounting firm when the 2018 Farm Bill was passed, legalizing industrial hemp.
Justin took this as his sign to jump into this emerging hemp industry. He began servicing the entire industrial hemp supply chain- selling seeds to farmers, biomass to extraction labs, distillates and isolates to manufacturers, and even finished products to retail outlets.
Through that experience, Justin developed deep relationships with incredible people, which afforded him the opportunity to create his own retail product using high-quality ingredients at the right prices.
Along with the support of his wife, he founded Milestone Hemp and set out to offer the world the finest filtered hemp smoke money can buy.
Benefits
In addition to the company's inspiring beginnings and high-quality ingredients, Milestone Hemp's Filtered Smokeables come with a variety of scientifically-backed benefits.
First off, smoking is a more effective and efficient delivery method than edibles or drinkables.
Smoking has, on average, a bioavailability of 31%, compared to 19% for ingested CBD. This means your body metabolizes 31% of the CBD you smoke but only 19% of the CBD you eat or drink.
Smoking is also faster-acting. A single CBD cigarette containing about 19 mg of CBD can produce peak blood levels within 3 minutes, compared to nearly 2 hours after taking tincture drops.
Thirdly, smokeables are much cheaper than CBD oil.
Smoke manufacturers don't have to go through the expensive and time-consuming process of oil extraction. Rather, they bring the original whole plant directly to the customer.
Not only is it more natural, but it's cheaper to produce and thus cheaper for you to buy in the store.
Justin shared, "As an example, let's say there are 65mg of CBD per stick which is our current standard at Milestone Hemp. That is 1,300 mg of CBD per pack of 20 sticks. Our pack retails for $15-$20, depending on the market. Compare that to $60 – $80 for a 1,000 mg oil tincture! That's over 500% more expensive for less CBD than what our product offers. Not to mention our CBD is going to be over 60% better absorbed as it is smoked."
Lastly, there is less risk of contamination from the extraction process, which must involve the use of harsh chemicals to separate the CBD chemical compound from the fats, lipids, and other naturally occurring components of the plant.
Conclusion
Flourish + Live Well is excited to be offering Milestone Hemp products in-store and online.
By offering quality ingredients, environmentally friendly products, and inspiring values, Milestone Hemp ensures that we have what it takes to hit each and every Milestone in front of us!
Why Flourish + Live Well?