Attention deficit hyperactivity disorder (ADHD) is a common condition that affects nearly 10% of children and 3% of adults worldwide. ADHD symptoms include low focus, poor concentration, and short attention spans, and often result in high levels of anxiety and depression for many patients.
Treatment for ADHD often includes strong medication and therapy. However, natural options with fewer side effects like CBD have been growing in popularity in recent years.
CBD can help improve mental clarity by interacting with ECS receptors throughout the brain and nervous system to regulate many body processes, including stabilizing energy levels, reducing hyperactivity, and improving focus. Additionally, CBD oil can ease anxiety and stress, a major symptom of ADHD.
CBD as a treatment for ADHD is just one of many benefits CBD offers. To look at some other benefits, please click on this link to our article about 50 CBD benefits we currently list.
CBD for ADHD Shows Promising Results
Though more research needs to be done, the limited studies that have been conducted have shown promising results:
A 2014 study found that individuals were more likely to report hyperactivity or impulsiveness when they were not taking cannabis.
Similarly, a 2017 trial looked at adults with ADHD treated with Sativex, a medication containing CBD and THC cannabinoids. While improvements were minimal, a minor reduction in ADHD symptoms was still reported.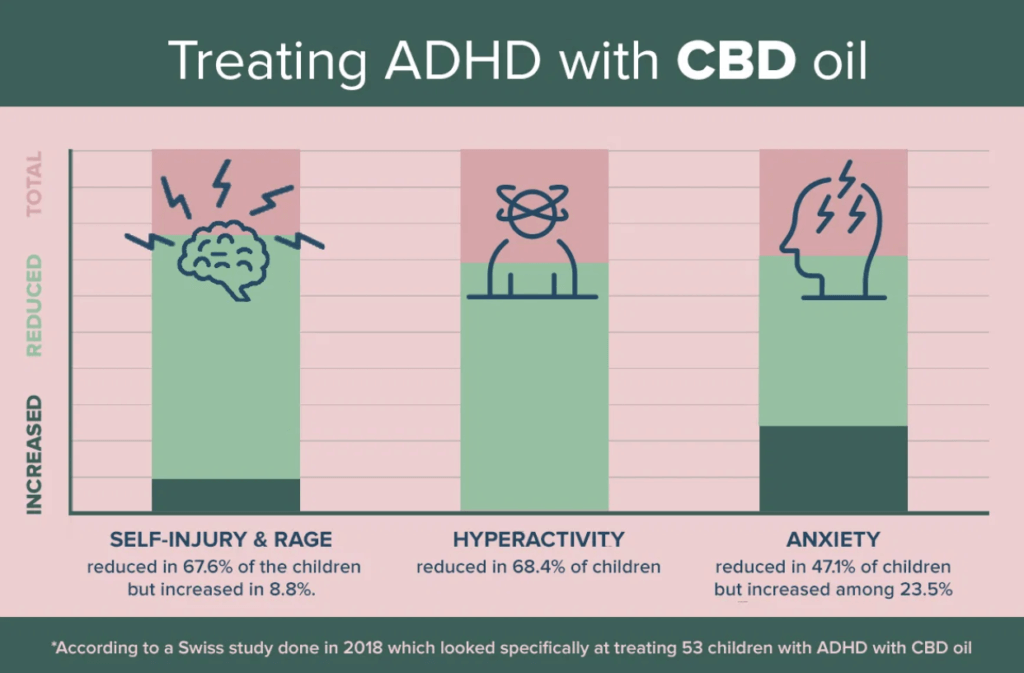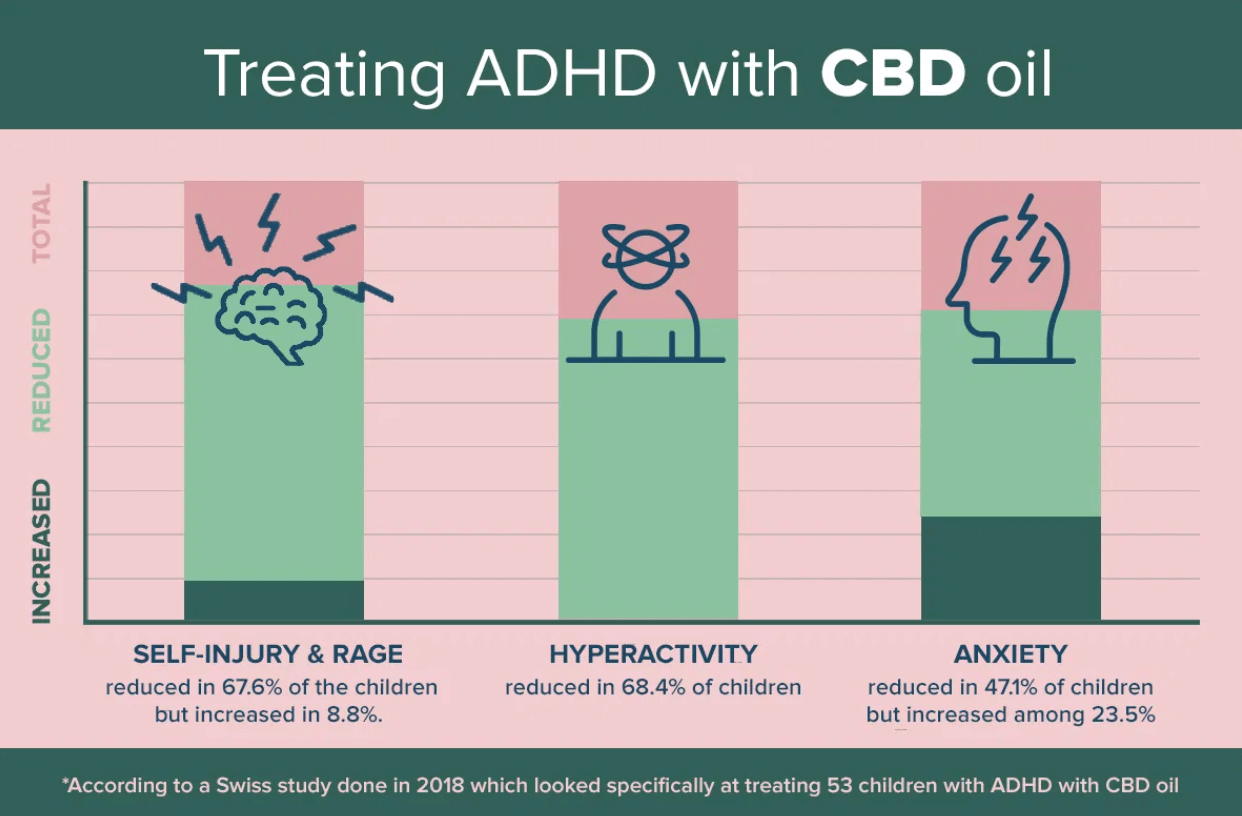 While CBD oil is generally well-tolerated, minimal side effects can occur, especially after first-time use. These include changes in appetite, headaches, fatigue, and nausea. CBD can also interact with the metabolism of certain medications, so talk to your doctor if you're worried about this or any of the above side effects before taking CBD.
How CBD can help with ADHD
To date, there have been no treatment studies, and there are no randomized trials that show conclusively how well it works (or doesn't work). It's too early to draw any conclusions, and clinical treatment for ADHD with CBD is a long way off. However, this is what the most recent research has shown:
CBD for ADHD in Children
Research investigating CBD and children with ADHD is minimal due to the stigma surrounding marijuana use. However, the few studies that have been done suggest CBD has beneficial effects. For example, this 2015 trial reported CBD use resulted in improvements in sleep, alertness, and overall mood.
As no clinical trials involving children with ADHD and CBD have been carried out yet, it is suggested you talk with your doctor before giving your child any CBD.
ADHD Symptom Management
CBD can potentially reduce ADHD symptoms such as hyperactivity, impulsivity, and inattention. It may also help to focus, but not through a direct impact on ADHD, but rather doing one of the things CBD seems to do best, which is reducing anxiety. Numerous studies looking at the impact of CBD on anxiety and stress have shown that CBD offers a calming factor to those that take it.
So, while CBD may not offer a cure for ADHD, the anti-anxiety calming properties of CBD are very likely to have an impact on hyperactivity, impulsivity, and inattention.
Anxiety and sleep disorders often co-occur with ADHD. These are symptoms that are over and above the regular or typical ADHD symptoms, such as impulsivity. CBD is known to help with both anxiety and sleep disorders.
A 2018 study found that cannabidiol may improve ASD comorbidity symptoms, suggesting great potential for ADHD patients.
Safety and Side Effects
CBD is generally safe to use. In scientific language, CBD is generally well-tolerated. There are minimal side effects, and those side effects are relatively mild. Typical side effects include drowsiness and fatigue, diarrhea, dry mouth, and reduced appetite.
The same held true in a 2017 study – one subject of the experiment was given a very large dose – 1500 milligrams – of CBD twice per day. The study found that a teenager with severe side effects of traditional antipsychotics was treated with up to 1500 mg/day of CBD for 4 weeks.
The researchers reported that the CBD treatment was well-tolerated and led to a significant improvement in the patient's symptoms, including a reduction in anxiety and an improvement in sleep.
However, it is important to note that this was a case study of a single patient, so further research is needed to determine the potential benefits and risks of CBD treatment for mental health conditions.
The most important health risks from CBD are possible interactions with other medications and the long-term effects of CBD usage. How CBD interacts with medications would take a very long time to study, as, obviously, would the long-term effects.
Even though the side effects seem relatively benign, as with any CBD usage, it is important to talk to a healthcare provider before beginning treatment for any sort of condition.
Legal status of CBD
Changes to the Farm Act in 2018 legalized the production of hemp, which up until that time, had not been differentiated from cannabis and THC, the psychoactive compound found in the cannabis plant.
Hemp, or industrial hemp, is essentially a cannabis plant where THC, the psychoactive compound, has been eliminated. The amount of THC doesn't have to be zero; trace amounts of THC up to 0.03% are permissible, but to put that in perspective, orange juice contains 0.05% alcohol.
Since 2018, many states have legalized the consumption of THC in cannabis for either medical use or recreational use.
Although in the past there was "medical marijuana", most of the health effects of the cannabis plant come from CBD, while most of the recreational effects come from THC.
Options: CBD Oil for ADHD
There are several types of products, and that makes taking CBD a simple task.
CBD Gummies for ADHD: One of the most common forms of taking CBD is CBD Gummies. CBD oil is infused into gummies, and they come in a variety of flavors. There are options for different strengths.
CBD Tinctures: Another popular option is the use of tinctures. CBD tinctures are bottles of CBD Oil. A dropper is used to put drops of CBD oil on or under your tongue. These tinctures also come in a variety of flavors.
CBD Smokables: CBD also comes in a dried flower form. The dried flower is ignited and smoked. The impact is much quicker than either gummies or tinctures.
How Much To Take – CBD Dosage For ADHD
We would suggest that anyone taking CBD begin with a small dosage of CBD and increase it slowly until the desired effect is achieved.
An ideal dosage of CBD is the least amount required to have the intended effect. That is going to depend on a lot of factors, like your body weight, body chemistry, the condition you're treating, and the concentration of CBD in the product you're using.
Further Studies Required But…
Ultimately, research investigating CBD's role in assisting ADHD treatment and symptoms is still new and needs to be further studied. However, current research is promising and has shown CBD to have several beneficial effects on ADHD patients. If you have experience using CBD to assist with ADHD treatment, comment below- we'd love to hear your thoughts.