Attention deficit hyperactivity disorder (ADHD) is a common condition that affects nearly 10% of children and 3% of adults worldwide. ADHD symptoms include low focus, poor concentration, and short attention spans, and often results in high levels of anxiety and depression for many patients.
Treatment for ADHD often includes strong medication and therapy. However, natural options like CBD have been growing in popularity in recent years. CBD can help mental clarity by interacting with ECS receptors throughout the brain and nervous system to regulate many body processes, including stabilising energy levels, reducing hyperactivity, and improving focus. In particular, CBD oil can ease anxiety and stress, a major symptom of ADHD as noted above.
Though more research needs to be done, the limited studies that have been conducted have shown promising results:
A 2014 study found that individuals were more likely to report hyperactivity or impulsiveness when they were not taking cannabis. Similarly, a 2017 trial looked at adults with ADHD treated with Sativex, a medication containing CBD and THC cannabinoids. While improvements were minimal, a minor reduction in ADHD symptoms was still reported.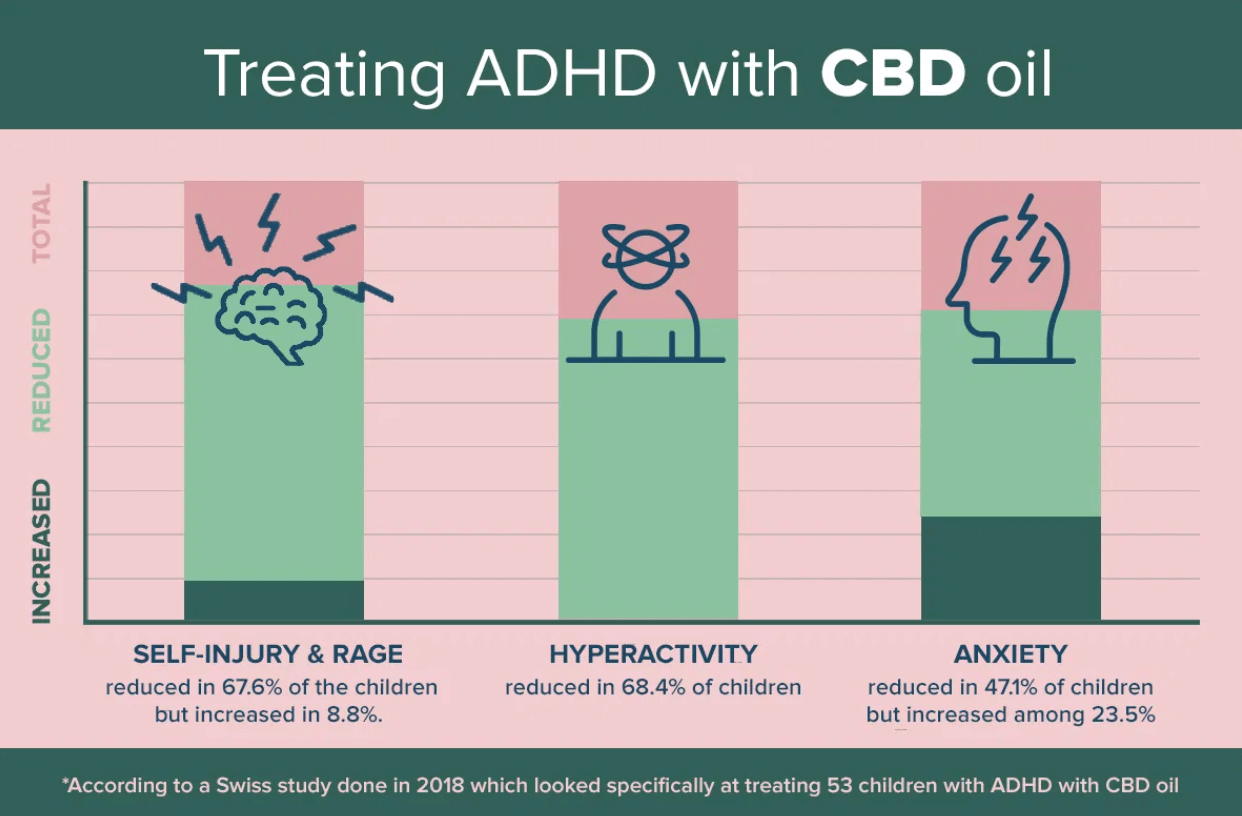 While CBD oil is generally well-tolerated, minimal side effects can occur, especially after first-time use. These include: changes in appetite, headaches, fatigue and nausea. CBD can also interact with the metabolism of certain medications, so talk to your doctor if you're worried about this or any of the above side effects before taking CBD.
Research investigating CBD and children with ADHD is minimal due to the stigma surrounding marijuana use. However, the few studies that have been done suggest CBD has beneficial effects. For example, this 2015 trial reported CBD use resulted in improvements in sleep, alertness, and overall mood. Additionally, a 2018 study found that cannabidiol may improve ASD comorbidity symptoms, suggesting great potential for ADHD patients. As no clinical trials involving children with ADHD and CBD have been carried out yet, it is suggested you talk with your doctor before giving your child any CBD.
Ultimately, research investigating CBD's role in assisting ADHD treatment and symptoms is still new and needs to be further studied. However current research is promising and has shown CBD to have several beneficial effects on ADHD patients. If you have experience using CBD to assist with ADHD treatment, comment below- we'd love to hear your thoughts.