Tis the season to be jolly and stress free. Between holiday planning, decking the halls, and gift shopping, it's safe to assume many of us are in need of a relaxing treat, and we have just the recipe for you. CBD Hot Chocolate combines delicious chocolate with the calming effects of CBD to create a new twist on a holiday favorite.
Below are two hot chocolate recipes infused with CBD. You can use any of your favorite CBD products, but make sure to calculate how many drops to add based on the amount you need. Adapted from Pure Kana
CBD Hot Chocolate Serves: 1
Ingredients:
1 oz milk chocolate, cut into chunks
1 tablespoon cocoa powder
1 cup milk
2 tablespoons sugar (optional)
CBD Oil
1 pinch cinnamon
1 pinch sea salt
Instructions:
In a small saucepan, combine the chocolate, cocoa powder, and ½ of the milk. Melt it together over a low heat, stirring to prevent burning.
When the chocolate is completely melted, add the remainder of the milk, along with the cinnamon and the sea salt.
Stir in the sugar a bit at a time until it dissolves, then add the CBD oil.
Serve and enjoy!
CBD Peppermint Hot Chocolate Serves: 2
Ingredients:
2 ½ cups coconut milk
¼ cup cacao powder
2 oz dark chocolate, chopped
2 tbsp maple syrup (optional)
1 tsp vanilla extract
Mint CBD Oil (we recommend (Flourish + Live Well 3000mg Mint CBD Oil)
½ teaspoon peppermint extract
Instructions:
Add the 2 1/2 cups coconut milk to a small saucepan and heat on medium until it comes to a gentle boil.
Switch off the heat and add all the other ingredients.
Whisk until the chocolate is melted and the mixture is smooth.
Serve and enjoy!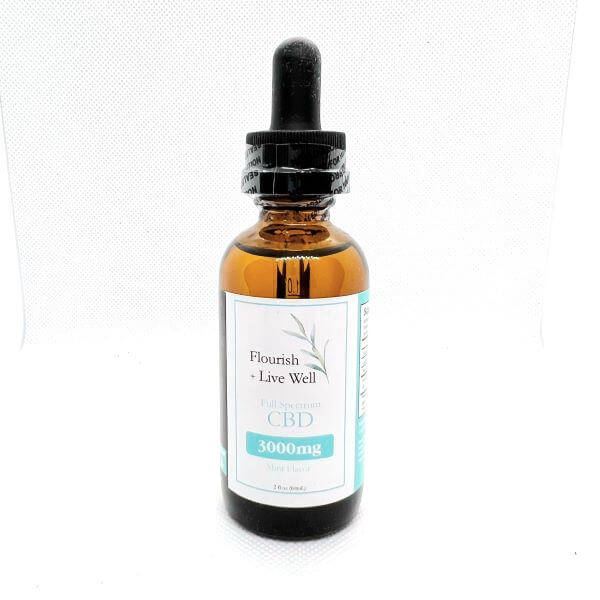 Flourish + Live Well Full Spectrum CBD Mint Tincture
Our mint flavored 2 oz. full spectrum tincture comes in a 3000mg or 5000mg tincture and is great for stress, anxiety, and sleep. Made with MCT oil in sunny Southern California.
Contains .03% THC or less. Convenient and easy to carry anywhere.
Always consult a physician before starting this or any other regimen. Not intended for use by children under the age of 18.